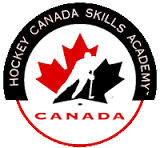 Percy Baxter Hockey Academy
One of the defining characteristics of Percy Baxter School is the Hockey Canada Skills Academy (HCSA).  This hockey skills based program is offered as an Option for students in Grades 6-8.  The curriculum is written by Hockey Canada and is designed around the 5 skills of skating, puck control, passing, shooting and checking.  As it is not a Learn to Skate program, students should have adequate skating skills before enrolling.  The course meets the needs of all levels of hockey players from beginners to advanced.
If you are planning applying to the program at Percy Baxter School, please note the following:
All interested students must make application to the program. This will involve completing the application package in its entirety. The application must be completed by both new and returning Academy students.
Selection of students to be placed in the Hockey Academy program will be determined by the program teachers in consultation with the school Principal.
Students and parents will be informed of the selection criteria and will be given feedback regarding their acceptance on non-acceptance into the program.
Any concerns regarding the application process, selection of applicants or fee collection should be directed to the Principal of Percy Baxter School.
Applications must be handed in to the school office (not program teachers) and all relevant deposits and fees are due by the specified deadlines. Failure to pay fees by the deadlines will result in student's removal from the program. Deposits will be returned when a student is not accepted into the program.
Other rules regarding application are laid out in the registration package.  

Hockey during the school day?  Amazing!